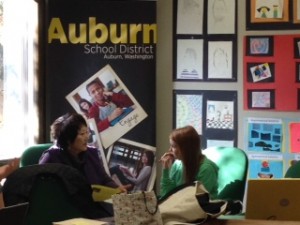 CSTP is dedicated to elevating the teaching profession by instilling teachers with the knowledge and skills they need to lead in a variety of contexts. Our support of teacher leadership as a means to make transformative change in education has led us to the development of the Teacher Leadership Framework, being used in a variety of ways in districts around the state. Additionally, CSTP has collaborated with the state and local districts to develop teacher leadership academies based on the Teacher Leadership Framework and the belief that when you provide dedicated time to build a teacher's capacity for leadership, she can enact change in her building that benefits students.
Our history of supporting teacher leadership is best illustrated in our four-year partnership with the Auburn School District in developing, facilitating and supporting their Auburn Teacher Leadership Academy (ATLA).
---
Articles
Teacher Leadership Academy in your District
CSTP has facilitators throughout Washington State that are trained on the Teacher Leadership Framework and available to train groups of educators. If you would like more information on academies or would like to get into contact with a trained facilitator, contact Nasue@cstp-wa.org for more information. Individuals can check out our Leadership Labs and #CampCSTP Teacher Leadership Training.