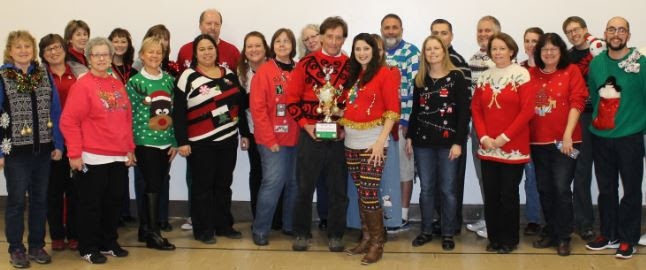 "The power of this format – connecting with an experienced leader, who engaged us, challenged us to create questions and step beyond our comfort became the highlight of our work."
District: Central Kitsap School District
Award Amount: $5,000.00
Description: Central Kitsap School District has 5 distinctly different alternative programs, facilitating education for over 300 students in grades K-12. At our campus, West Alternative, we function as a 10th-12th grade facility. In CKSD, our alternative programs are preparing to go through a major overhaul in the next 3-4 years. As part of this transition, we will be combining at least 4 of our 5 programs into one comprehensive facility.
Our grant is all about foundational leadership. Our goal is to expand our worldview of "alternative school" through media, books, alternative site visits, and peer-to-peer interaction. Our end goal is to have a vision and mission statement to lay the groundwork for our new school.
What was the problem you were trying to solve?
As a group, we were preparing to merge our schools into one thoughtful comprehensive alternative high school.  We were exploring neighboring alternative schools and laying the foundational work for a common mission/vision.  Our goal was to make educated decisions with informed and invested staff members.
Why was the work important to your context?
It is important for us to merge into one program with a shared vision and goals as seamlessly as possible to promote a positive working environment for our students. We have many high anxiety/behavior (at risk youth)  students in our schools and it is important for us to work as a cohesive group so we can best meet their needs. We are a small staff and it is important for all to feel included and "part of the team" so we can work efficiently.
Briefly outline the 'scope and sequence' of your work
Meet as a staff to discuss Alternative HS student's needs.  Examine other alternative programs and observe other schools.  Principal and counselors attended a conference for Washington Alternative Learning Association and network with other alternative schools in the state.  Review literature about increasing student engagement (i.e. attendance) and purchase materials to support these goals.
As a result of the work, what are the significant impacts you are able to evidence? (What changed as a result of your work?)
The ability to advocate for students' needs and support the advocacy with information from other schools around the area.
Saw how different programs were set up and gained a better understanding of their "management" of ALE, etc and how we might be able to incorporate their successes into our building.
Visiting other schools gave us an appreciation for the opportunities we are given in the upcoming year to reinvent ourselves and current model.
What were your major learnings?  (successes and challenges)
Learned that we need a better system for attendance accountability.

Learned physical building plays a huge role in the atmosphere and opportunities students are given.

Learned that we are walking towards a direction our peers are not currently.
What resources did you need to use or to create to support the work?
We used books about student engagement, a movie about an alternative school that is saving lives, and alternative program colleagues.
As a result of your work, about how many teachers were directly impacted?  How do you know?
18 teacher leaders participated in the grant in some way.  Through site visits, book studies and viewing the movie, 18 teachers were educated and ready to talk to the district office personnel and the "Brain Spaces" professionals and advocate for alternative students' needs throughout Central Kitsap School District.
As a result of your work, about how many teachers were indirectly impacted?  How do you know?
31 teachers and other leaders in the alternative programs have been impacted by the grant.  Staff that were directly impacted, returned to their school sites and have begun sharing and collaborating with their colleagues. Together, all staff are building on ideas that have been learned.
What words of wisdom do you have for the next teacher leader working to increase teacher leadership in their context?
Communication & collaboration!   Creating staff buy-in is essential.