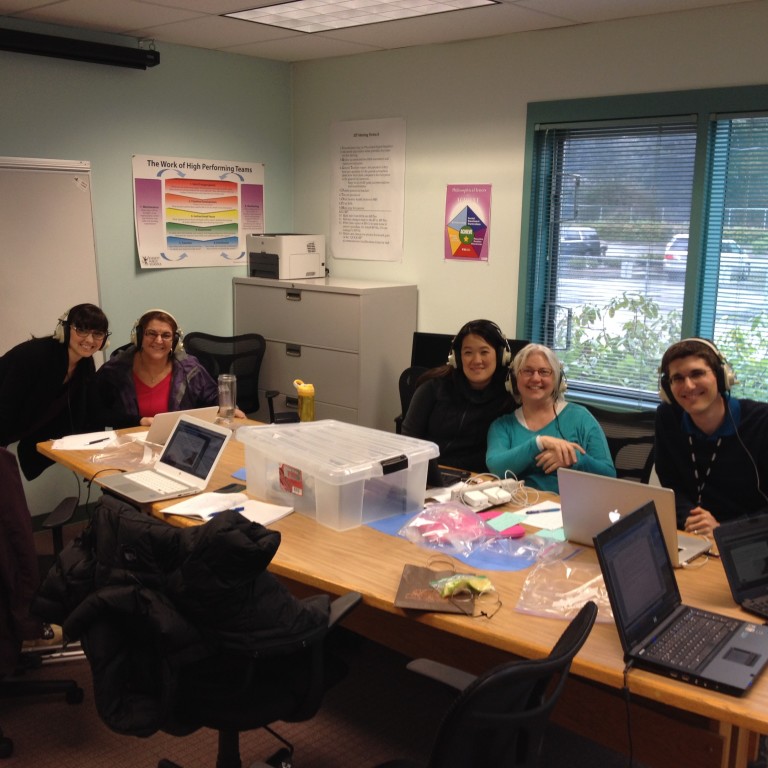 "The power of this format – connecting with an experienced leader, who engaged us, challenged us to create questions and step beyond our comfort became the highlight of our work."
District: Everett School District
Award Amount: $4,727.05
Description: We are the 4th grade team at Cedar Wood Elementary in Everett, eager to search, acquire, and implement the high-engagement, high-yield strategies to propel our students to the next level in their learning. Through book studies, peer observation and self-reflection, we will power-up our practice to increase student engagement and ignite the fire of learning in our classrooms, to extend beyond our team and inspire our colleagues to join us in a shared quest of learning.
End of the Year Report
Our grant, "Improving Practice Through Collaborative Observations," was a collective effort by the 4th grade team at Cedar Wood Elementary School in Everett.  As with all professionals, we continually strive to improve our practice and reflected on a need to more deeply engage all students across the curriculum and allow them to grapple with meaningful, thoughtful questions.  Although we routinely plan together, it became apparent that we often altered those plans in the moment to better meet the needs of our students and found it difficult to verbalize those shifts in our debriefings.  It became apparent that we had a great deal to learn from one another!
We began with the webinar "The Power of Student Questions" through the Great Books Foundation and were able to incorporate what we learned immediately, if not completely successfully.  Learning what questions to ask, how to rephrase, respond to students with additional questions and probe thinking is a skill that takes time and practice.  We found ourselves wanting to know more and successfully asked for and were granted two additional webinar meetings with this company in which our team was the only participant.  The power of this format – connecting with an experienced leader, who engaged us, challenged us to create questions and step beyond our comfort became the highlight of our work.  We also read and discussed several books including Classroom Instruction that Works, Talk About Teaching!: Leading Professional Conversations, The Core Six: Essential Strategies for Achieving Excellence with the Common Core, and Leading Instructional Rounds in Education: A Facilitator's Guide.  We also scheduled time, once using substitutes and several times during planning, to observe one another teach and discuss key points.
As a result of our work, we are better able to engage students in meaningful discussions using focused questions.  We have gone beyond depending on "Accountable Talk" stems and teacher-centered dialogue to more student-centered discussion (sometimes debate).  This is still work in progress.  None of us feel as though we have perfected this and will continue push one another in the future, especially as we move into other content areas.  One powerful insight, especially as we plan literacy discussions, was the fact that we, as adults, wanted desperately to discuss an engaging text.  We've worked on discussing texts as a team before leading a discussion with students.
Our team of five teachers was directly impacted by this grant, as we studied, observed, debriefed and planned together.  Four have decided to pursue National Board certification next year (one currently is a NBCT) as a direct result of this venture.  As other teams learned of our work, they began asking how they could participate.  Four additional teachers in other teams have also decided to pursue National Board certification.  We envision powerful discussions and refinements to practice as a result.  Our principal is now searching for funds to expand our work to other teams, wishing to create opportunities for peer observations and make them part of our building's culture, deepening collaboration and expanding professional practice.
As teachers increase their leadership roles, our advice includes:
Know all of the people who will eventually be part of the decision-making process, understand their perspective and anticipate their concerns. There will be surprises!
Teachers, by and large, seek opportunities to grow! Take advantage of this fact and create powerful experiences.
Accept that there will be gatekeepers and obstacles, but figure out how to navigate around each. Rely on those who are skilled at navigation to give you support, suggestions and a reality check.