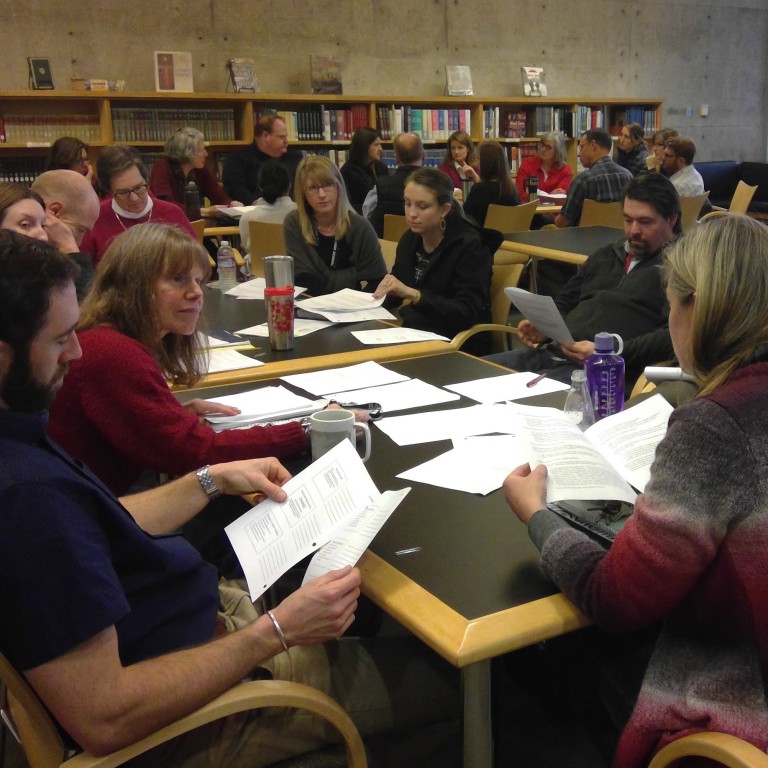 "Along with this atmosphere of high achievement comes high stress and unhealthy behaviors.  According to the Washington State Healthy Youth Survey (WSHYS), 63% of BHS 10th graders report being anxious and 73% of seniors.  Students release that stress by making unhealthy and dangerous choices.  For example, on the WSHYS, 34% of seniors at BHS reported binge drinking in the past month.  Over 30% of seniors at BHS reported using marijuana "at least once in the past month" and 20% of sophomores also reported using marijuana at least once in the past month.   Students also report a high incidence of bullying and hazing.  Thirteen percent of BHS twelfth graders report being bullied at school and 14% report being bullied or harassed by computer or cell phone.  According to the WSHYS, "Statewide, 12th graders who are bullied at school are more likely to report lower grades in school (c's, D's or F's) compared to those who aren't bullied."
"
District: Bainbridge Island School District
Award Amount: $5,000.00
Description: During a staff retreat this summer, the faculty at Bainbridge High School (BHS) conducted an edCamp. During that process we identified that stress is negatively impacting student learning in our school. Teachers and counselors identified several specific topics related to this stress that needed further exploration, study, discussion and hopefully action. These topics include homework load, character education, positive student traditions, mission statement, stress management and gender issues. Faculty have since brainstormed questions about these topic like: How much homework do students complete each night? What is best practice for homework loads? Do students have so much homework that they are unable to live a healthy lifestyle (exercise, sleep, etc.)? Do we teach and model for students the importance of strong character? What does it mean to be a "good person"? What traditions do students participate in each year and are these healthy traditions or hazing? How can we encourage healthy, supportive and positive rituals? Does our mission statement reflect more than just academic goals but also dispositional expectations? What are these dispositional expectations? What are healthy ways that students can effectively manage stress? How do we have conversations with students about stress and help them to make choices that limit stress? How can we, as a community, better support students who are gender fluid? As a result of this grant, teachers will have the resources and collaboration time needed to research and discuss next steps to create a healthier and more supportive community at BHS.
What was the problem you were trying to solve?
Bainbridge High School (BHS) is a high performing school where 94% of students continue to a two or four year college.  U.S. News and World Report (2016) just ranked BHS as the 5th best high school in the state of Washington.
Along with this atmosphere of high achievement comes high stress and unhealthy behaviors.  According to the Washington State Healthy Youth Survey (WSHYS), 63% of BHS 10th graders report being anxious and 73% of seniors.  Students release that stress by making unhealthy and dangerous choices.  For example, on the WSHYS, 34% of seniors at BHS reported binge drinking in the past month.  Over 30% of seniors at BHS reported using marijuana "at least once in the past month" and 20% of sophomores also reported using marijuana at least once in the past month.   Students also report a high incidence of bullying and hazing.  Thirteen percent of BHS twelfth graders report being bullied at school and 14% report being bullied or harassed by computer or cell phone.  According to the WSHYS, "Statewide, 12th graders who are bullied at school are more likely to report lower grades in school (c's, D's or F's) compared to those who aren't bullied."
The faculty at Bainbridge High School recognized that while we, as a community, are feeding the minds of our students, we also need to feed the hearts of our students.  We determined that we need to address the social/emotional health of our students.  We hoped that through our work we could better understand the sources of stress for students and take action to mitigate some of this stress.
Why was the work important to your context?
It is essential for students to feel successful academically but also emotionally.  Happy, healthy kids means increased student learning.  In survey data from earlier this year students said:
"The pressure to succeed crushes me."

"[With a 4.0 GPA, I] still don't feel like I am good enough."

"There is a great pressure for kids to conform rather than to seek out what makes them happy or be true to themselves."

"Grades have become more of a priority than my health."

"I feel that my homework load is at times excessive.  It often interferes with the amount of sleep I am able to get each night, which negatively impacts my learning in class and my health."

"With sports and extracurricular activities it would be nice to have less homework.  I find myself missing out on family time."
Additionally, teachers care about their students and their social/emotional health but haven't had a mechanism to discuss or address these issues.  Teachers wanted to have the time and resources to discuss the source of this stress and to be empowered to take action on reducing stress for students.  This grant provided that opportunity.
Briefly outline the 'scope and sequence' of your work
Prior to the start of the school year, at our annual faculty retreat, the BHS curriculum coach and I facilitated an EdCamp with our staff.  Teachers brainstormed topics that they thought we needed to address in order to have a more happy, healthy and successful community.  These topics then became the focus of our professional development work during our weekly early release time.  Topics included:
A revised

mission statement

that recognizes not just the head but the heart.

Addressing the concern of students spending too much time on

homework

that is then detrimental to their learning and emotional health.

Understanding issues related to

gender identity

and determining if there is an achievement gap between boys and girls, and if so, how to address it.

Creating a culture of

positive student traditions

rather than hazing.

Determining the sources of student

stress

and how to manage stress in a healthy way.

Learning more about

character education

and how we might implement these strategies in our classes.
Then, every teacher on staff self-selected one of the topics above and created teams focused on this area.  During the first half of the school year, 1-2 days per month, during our weekly early release, teams met to research and discuss these topics.  
The second half of the school year, teams facilitated a faculty meeting about their topic, sharing research, data and discussion topics in order to inform teachers and also obtain guidance of next steps to take action.
In late spring, the leaders of all the groups spent a half day release discucssing what their groups accomplished, what we accomplished collectively as a faculty and possible next steps for the 2016-2017 school year.
The final faculty meeting of the year we celebrated our hard work and provided the space for each team to reflect on what they accomplished as well as brainstorm next steps.
As a result of the work, what are the significant impacts you are able to evidence? (What changed as a result of your work?)
Mission statement:

We plan to have a final mission statement approved by stakeholders and the school board at the beginning of the 2016-2017 school year.

Homework:

We came to a common understanding that students are spending too much time on homework (based on survey data and research on best practices).  Now the homework group is leading a conversation with the faculty to determine common agreements on homework (i.e. no homework over breaks, including the amount of homework for every class in the course description book so students can make informed choices on classes, telling students how long an assignment should take and then asking them to stop or email their teacher if they are not finished after that time).

Gender identity:

A team of

guest speakers

presented appropriate gender terms as well as the concept of allyship to teachers at a faculty meeting.  

Positive Student Traditions:

A trainer from  the Association of Washington School Leaders (AWSL) came to BHS and facilitated a team-building workshop with student leaders (nominated by their peers) including the opportunity for students to determine where they fell on Maslow's hierarchy while at school.  Immediately after, the trainer facilitated a workshop with faculty building off of the outcomes from the student workshop.  We identified that while students feel safe, they often do not feel like they "belong."  We turned over this data to a community organization called Raising Resilience and they have been working with the group of student leaders and the newly formed

Link Crew

to shift students further up Maslow's pyramid.

Stress, Grit and Resilience:

This team analyzed data from the Healthy Youth Survey and also heard a presentation from Bainbridge Youth Services about the sources of student stress.  Now this team of teachers is brainstorming ways to empower students and reduce stress.

Character Education:

This group read

The Road to Character

(David Brooks) and also a number of research articles about character education.  They determined that in our school setting the best way to integrate character education into the curriculum is for departments to determine how to effectively integrate these concepts. In order to assist with this, the groups created a

database of resources

for reference.
What were your major learnings?  (successes and challenges)
I learned:
We have a lot of work to accomplish (even more than I initially realized).

To allow many voices and buy-in takes a long time.

It can be difficult to get teachers to take release time or work outside of their contractual hours but there are always some who leap at the opportunity to expand their learning and leadership.

In a comprehensive high school many teachers don't know each other and are siloed in departments.  This project allowed for teachers to work together on a common goal and bond through the process.  The process of working on these common goals changed the culture and atmosphere among the staff.  

It is amazing what we can accomplish together when provided the opportunity.  I've become a big believer in a distributed leadership model and the necessity of teacher-leadership.
What resources did you need to use or create to support the work?
Overarching support included: release time for data analysis and PD planning, funding for expert speakers, funding for the creation of a library of resources, and stipends for teachers who worked outside of the school day on these projects.

The mission statement group read part of Richard Dufour's book

In Praise of American Educators

and followed his model of constructing a mission statement.  They also used Google Forms to survey staff, parents and students and found that there was significant overlapping ideas.  

The homework group used Google Forms to survey teachers and students about homework.  They found that 47% of 9th graders, 60% of 10th graders, 72% of 11th graders and 67% of 12th graders spend more than 2.5 hours a night on homework.  The homework group also reviewed research articles about homework best practices and determined that 9th graders should have about 90 minutes of homework a night and 12th graders should have about two hours of homework a night.  They concluded that students are spending too much time on homework.  

The gender issues group analyzed GPA data and determined that there is an achievement gap between boys and girls.  They would like to focus next year on ways to address this achievement gap.  
As a result of your work, about how many teachers were directly impacted?  How do you know?
Our entire certificated staff (71) participated in this project and self-selected one of the six teams.  The meetings and work for these teams occurred during our Monday professional development time that is required for teachers/counselors to attend.
As a result of your work, about how many teachers were indirectly impacted?  How do you know?
Some of the other buildings in our district have heard about the work at the high school and are interested in possibly pursuing some of the topics we discussed.  For example, the assistant principal at the middle school told me recently that when she asked a group of student leaders what they will remember most about middle school, they said, "Homework."  Hopefully some of our work will encourage similar conversations at the elementary, intermediate and middle schools in the district.
What words of wisdom do you have for the next teacher leader working to increase teacher leadership in their context?
Have patience.  This work can be slow and difficult, but if you create an effective process, your ideas and efforts will spread.
Don't get discouraged.  Surround yourself with educators who are positive and have a can-do attitude.

Recognize and appreciate the hard work of those around you.  There will always be a vocal minority.  Focus on the positive majority.