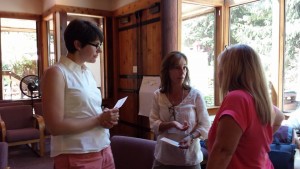 Stay tuned! Our next "Creating Powerful PLCs" will be offered in July 2018. Can't wait that long? Contact us for information on how to bring this training to your district.
Struggling with getting your PLC to function well? Are you seeking to move your PLC beyond the "who-needs-more-supplies/sharing-of-weekend-plans/district-office-needs-this-information" meeting towards true collaboration time about teacher practice? Need time, space and some coaching to give your PLC a boost? Then we have just the ticket!
Join us in North Bend, for an overnight retreat to dive more deeply into creating high functioning PLCs. Presenters Karen Remy-Anderson, Executive Director of Student Support Services (former Principal of River Ridge High School) and NBCT Jami Gore, Math Program Leader and Teacher at River Ridge High School will provide concrete ideas that have worked for their PLCs and provide guidance around moving a PLC from data-driven compliance to data-informed, authentic teacher learning that has transformed their instructional practice. This retreat will highlight real and relevant best practices and will provide ideas and structures that can be contextualized as teams work together.
Participants will receive:
• Ideas for scaffolding productive collegial relationships
• Coaching from experienced PLC leaders and administrators
• Practice in utilizing skills for working with adult learners and working with teams
Registration includes overnight lodging (shared or single available) on November 17 at Rainbow Lodge, dinner on November 17, breakfast and lunch on November 18, and all session materials.